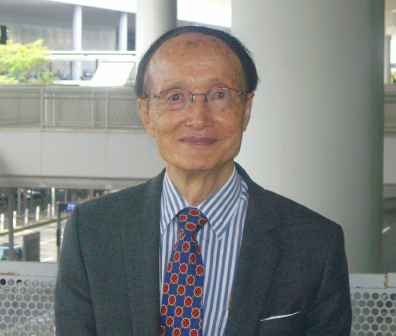 ● Professor Emeritus at the University of Texas
● Former Chairman of The Gerontological Society of America
● Chair Professor at the National University of Pusan
  (Honorary Director of Longevity Science Technology
 Research Institute)
A world authority in "aging" and "oxidation" studies having a significant impact on aging and oxidation researchers in Japan. In addition, he presented more than 200 thesis in conferences. He speaks 6 languages including Japanese.


After graduating Kyoto's University, I spent an enriching time working as trading company employee in charge of Soviet Eastern Europe region, Europe and Asian countries markets during their high-growth era, assuming my role of sales staff for import-export business of synthetic resin products and glass fiber products in a general trading company in Tokyo.
Around the time I turned 30, my father suffered from myocardial infarction and my mother from breast cancer, my parents became ill with what was called at that time typical "adult diseases". Fortunately, my parents were saved thanks to surgical medical care, but through this experience my encounter with the theme "what should we do in order to not become sick?" occurred. At the time it was an era in which almost no places practiced preventive medicine and so-called "health industry" did not exist, but I left the trading company and decided to challenge that theme, this was the beginning of a new life foe me.
However, when I started around 1980, in Japan there was a situation in which some health food were circumstantially sold with in general a very low appraisal for health food, in addition we were also far to obtain proper level of social recognition of our business, the situation looked like people were still on their guard. Because for consumers, the idea of preventive medicine was completely unknown and the necessity of health food was not understood, there was a need to first instruct about "prevention" and build from scratch the health food market, it reminds me it was a succession of trial and error.
Around 20 years ago linked by fate, I was able to meet Dr. B.P. Yu who is still currently giving guidances as our company senior fellow. At the time, Doctor Yu was recognized as a global leader regarding aging problem active oxygen research, Professor at the US University of Texas holding the important position of Chairman of The Gerontological Society of America. From this Doctor Yu, we received themes and research results for such subjects as "anti-oxidation" 20 years ago or "anti-glycation" and " caloric intake and longevity" 10 years ago and we were also able to make many professional acquaintances through Doctor Yu's personal connections. When I take a look at the changes that occurred in the health industry during those 20 years, I can see that the real world embodies now the knowledges obtained through Doctor Yu's researches.
From around 1990~1995, with the arrival of a future aging society and the major risk of medical expenses associated in background, the flow of health information became bigger and bigger in media such as TV and publication, leading food manufacturers, cosmetics manufacturers and even pharmaceutical manufacturers entered the health food business and the market called "Health industry" was finally born. Currently in 2015, with an even more advanced aging, we arrived in a situation in which the market size and growth industry is evaluated at more than 2 trillion yen in Japan
In such trend of the times, I have continued for nearly 35 years to challenge a business built on the theme of "preventive health and beauty practice" , consistently cherishing the following:
①

If your make of " Health and Beauty " are the most important thing for anyone… your theme
then we must sincerely face "Health and Beauty" and go straight forward on the right path.

②

Customers desire to "become healthy" and" become beautiful"
then of course we must respond to those needs but what is required to a professional is to provide better-than-expected results .

③

To correctly understand and recognize "body mechanisms" and to generate ideas from there.
In the same time, to turn our eyes to the whole wide world and join hands with the people of the world, not only on the basis of modern medicine but also on the thinkings of "practical search for the truth", valuing people's traditional "wisdom" and "blessings of nature".

By cherishing these values and by operating completely different business activities, we were able to obtain a lot of supporters and partners. However, the road to pursue a "True Health and Beauty" is still far away, I believe that continuing to use those values as the foundations of our challenge remains an unchanged theme to us.